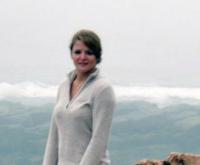 Victoria Price
Research Scientist
Office 122D
Center for Coastal & Ocean Mapping/Joint Hydrographic Center
Jere A. Chase Ocean Engineering Lab
24 Colovos Road
Durham, New Hampshire 03824
603.862.5247 (tel)
603.862.0839 (fax)
Victoria began working on the IOCM Hurricane Sandy project in 2014. She is focused on investigating effective uses of hydroacoustics for rapid post-storm response surveys, as well as developing efficient methods for acoustic data analysis. She is also focusing on pre- and post- Sandy LiDAR data to investigate the use of topobathy data for modeling habitat and shoreline changes in the wake of major weather events.
Victoria received her B.S. and M.S. in Oceanography from the University of Connecticut, where she focused on the development of ecological survey methods using high-resolution imaging sonars. Her previous work includes investigating methods for quantifying predation over broad time scales using DIDSON sonar, as well as developing effective algorithms for large-batch acoustic data processing and analysis.
Victoria enjoys hiking with her dogs (and husband), eventing with her retired race horse, and mountain biking.