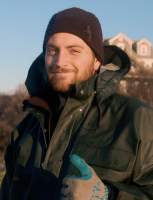 Kevin Jerram
Research Scientist I
Office S122C
Center for Coastal & Ocean Mapping/Joint Hydrographic Center
Jere A. Chase Ocean Engineering Lab
24 Colovos Road
Durham, New Hampshire 03824
603.862.1652 (tel)
603.862.0839 (fax)
Kevin joined the Center's Super Storm Sandy research effort in early 2014 and is currently focused on efficient application of phase-measuring bathymetric sidescan and multibeam echosounder systems for emergency response, marine debris identification, and storm impact assessment.
Kevin recently completed the Center's M.S. Ocean Engineering program (Ocean Mapping option; expected graduation in May 2014), through which he worked to improve methods for detection and characterization of marine gas seeps using a split-beam scientific echosounder. Previously, he received a B.S. in Mechanical Engineering from UNH and worked in engineering positions for Shoals Marine Laboratory and Ocean Classroom Foundation.
In his spare time, Kevin enjoys hiking with his fiancée and working on their sailboat (built in a village on Lake Huron named, appropriately enough, after British hydrographic surveyor Admiral Henry Bayfield).