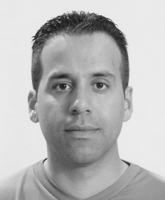 Giuseppe Masetti
Postdoctoral Research Associate
Office 161
Center for Coastal & Ocean Mapping/Joint Hydrographic Center
Jere A. Chase Ocean Engineering Lab
24 Colovos Road
Durham, New Hampshire 03824
603.862.0564 (tel)
603.862.0839 (fax)
Giuseppe Masetti received a M.Eng. degree in ocean engineering (ocean mapping option) from the University of New Hampshire, NH, USA, in 2012, and a Master in marine geomatics (with honors) and a Ph.D. degree in system monitoring and environmental risk management from the University of Genoa, Italy, in 2008 and 2013, respectively. In addition, he graduated (with honors) in Political Sciences from the University of Pisa, Italy, in 2003 and in Diplomatic and International Sciences from the University of Trieste, Italy, in 2004.
He has served with Italian Navy since 1999, and he has been Operations Officer aboard the hydrographic vessels ITN Aretusa and ITN Magnaghi. Since August 2013, he has been with the Center, where he is focusing on signal processing for marine target detection.
Dr. Masetti achieved the FIG/IHO Category A certification in 2010, and he is member of IEEE and THSOA.